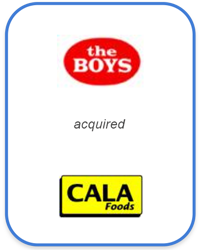 CASE STUDY:
The Boys
Worked with a Mexico-based family diversify its holdings into the U.S.
Provided advisory services to client to acquire a Los Angeles-based publically traded supermarket chain
Financed two follow-on, tuck-in acquisitions
Lead Banker: Dan Sanford
Client Profile 
Founded by the Goldstein family, the Boys Market grew to 43 stores; which was acquired by a LA-based private investor group in in the mid-1980s. Thereafter, the grocery chain accelerated its growth both organically and through a series of regional acquisitions.
Through an introduction to the Brenner family, a wealthy Mexican family with financial interests in the hospitality and food business, Dan became increasingly aware that the family was interested in extending their business interests north-of-the-border.
Situation Overview
The banking team represented the Brenner family and assisted in providing financing for their initial acquisition of the Boys Market. The $131 million acquisition was structured as a leveraged buyout in the form of a "going-private" transaction. Following the public buyout of the Boys Market, the Brenner family quickly grew their local footprint and launched the acquisition of two regional grocery chains.
The Outcome
The Brenner family acquired in rapid succession FoodsCo Markets located in Los Angeles, and the 46-year old San Francisco based Cala Foods grocery chain, which had been an industry leader having been the first 24-hour grocery retailer.
The Brenner family eventually grew the multi-branded Boys Market to 70 stores, and ultimately positioned itself for a $375 million merger with Yucaipa Food Group.