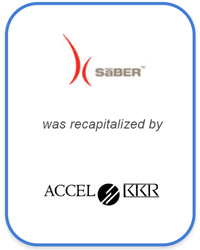 CASE STUDY:
Saber Software, Inc.
Leading provider of administrative software applications to state and local government agencies
Majority recapitalization
Allowed the founders to continue to operate the business, while providing substantial liquidity
Additional investment capital to fund strategic acquisitions
Lead Banker:  Scott Messier
Client Profile 
Saber develops software products and provides services to state and local government entities. It offers technology solutions related to document management, business intelligence, custom application development, and outsourced application maintenance. Its technology includes solutions for voter registration, election management, human services, public health services, public retirement programs, motor vehicles, and unemployment insurance.
Situation Overview
The founders (i.e., two brothers) were contemplating a sale of the business, but realized a complete sale would not necessarily maximize value. There was an opportunity for growth by developing additional solutions for state and local government agencies. However, the founders did not have the capital to invest in these offerings. They needed a partner to help them realize their objectives.
The Outcome
Saber was acquired two years later by EDS for $420 million. Subsequently, EDS was acquired by Hewlett-Packard. Saber, which is now fully integrated, serves as a significant component of HP's state and local government software and services business.