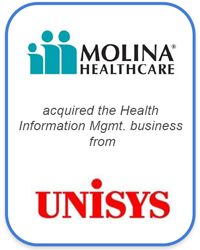 CASE STUDY:
Molina Healthcare
Acquired a business complementary to their core business
Complicated carve-out transaction involving a division of a public company
Gained significant operating cash flow with higher margins
Helped company diversify from its health plan business
Enabled management to incorporate its care management expertise in managing Medicaid populations
Lead Bankers:  Jim Emslie,  Bob Maggiacomo,  Scott Messier  
"We have worked with Synergy Advisors for over a decade on numerous projects, including acquisitions and divestitures, as well as other corporate development efforts. In my experience, their team conducts business with professionalism, focus, and commitment. Synergy's bankers are very experienced with strong deal execution experience and have significant breadth and depth of knowledge in various healthcare segments. As a Fortune 500 Company, we use Synergy because their advisory capabilities are as good as any Wall Street firm. Synergy has served as a valuable and trusted resource to Molina Healthcare over the years, and we continue to use them in our corporate development efforts."
John Molina, CFO, Molina Healthcare
Client Profile
Molina Medicaid Solutions (formerly Health Information Management) specializes in the design, development, implementation, and operation of Medicaid Management Information Systems (MMIS) for state government agencies. It operates as fiscal agent, offering a variety of business process services including eligibility verification, member management, provider relations, claims processing, pharmacy benefit management, financial management, and program integrity. MMS is the third largest MMIS vendor.
Situation Overview
Synergy pursued a carve-out of this business unit from Unisys and entered into exclusive negotiations with seller for Molina Healthcare to acquire the business. Molina Healthcare was interested in identifying complementary businesses to diversify from its health plan business. Unisys was interested in divesting non-core assets, as management was involved in a company restructuring and required liquidity.
The Outcome
Synergy successfully negotiated this carve-out transaction with Unisys management on favorable terms for the acquirer (valuation multiples less than industry mean/median levels).