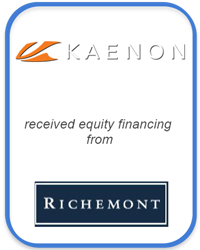 CASE STUDY:
Kaenon Polarized, Inc.
Sourced growth capital with strategic investor
Founders maintained majority interest in company
Closed with international luxury brand investor
Lead Bankers:  Jim Emslie,  Bob Maggiacomo
"Synergy provided excellent execution to help Kaenon Polarized achieve its goals at the time. Kaenon needed growth capital with a desire to tie into a larger strategic investor and we successfully achieved this objective and maintained majority control. As experienced bankers, Jim and Bob were both active on our transaction and were always available whenever I needed them. I would definitely use them again."
Steve Rosenberg, Founder,  Kaenon Polarized
Client Profile 
Kaenon develops and distributes premium sunglasses to diversified specialty selling channels, premium Rx lenses and finished branded prescription sunglasses to the optical channel. Kaenon's SR-91 lens provides the best optical performance in clarity, acuity and scratch resistance of any lightweight impact resistant lens available.
Situation Overview
After Kaenon's initial years of operations it found itself in a position of having established strong brand quality recognition, with several high profile athletes (Danica Patrick, Davis Love) using their product because of quality superiority to other choices – without Kaenon paying them to wear the product – which is the norm in the business. In addition, Kaenon began selling though larger retail channels which required a heavier working capital investment. They needed growth capital.
The Outcome
Synergy was able to identify and close with an internationally known consumer luxury brand company, Compagnie Financiere Richemont. Synergy was successful in negotiating a non-control minority investment which enabled Kaenon to recapitalize and still maintain majority ownership.