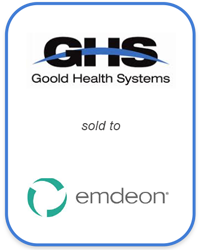 CASE STUDY:
Goold Health Systems
Leading provider of clinically driven, evidence-based pharmacy benefit solutions to state Medicaid agencies
Provided liquidity to the financial sponsors
Expanded Emdeon's position in the government pharmacy benefit administration market
Enhanced Emdeon's existing pharmacy benefit operations
Lead Bankers:  Scott Messier,  Bob Maggiacomo
Client Profile
GHS offers pharmacy services, clinical assessment programs, medical prior authorizations, and business process outsourcing. The company offers pharmacy benefit services administration and related services, clinical data reviews and analyses, health care assessments, data capture, data center, and other support services to state Medicaid agencies, the federal government, and private sector companies.
Situation Overview
The Waldron Group had been an investor of GHS for decades; and it had been contemplating a sale of the company. The investors, however, did not want to distract management with a prolonged sale process, or risk those in the relatively small circles of the Medicaid market from learning of a potential sale. The Waldron Group leveraged Synergy Advisors' deep industry knowledge in the Medicaid solutions sector. Synergy provided market intelligence on various potential strategic counter-parties and direct knowledge of how these counter-parties could leverage GHS' platform and capabilities.
The Outcome
Synergy delivered the best strategic buyer for GHS to The Waldron Group. GHS was acquired by Emdeon for its extensive pharmacy and clinical capabilities, as well as its understanding of the complex and unique world of Medicaid management.