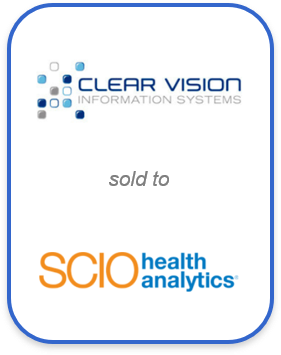 CASE STUDY:
Clear Vision Information Systems, Inc.
Risk adjustment and quality metric analytics
Solutions provide significant revenue optimization for clients
Complements SCIO Health Analytics' cost containment and predictive analytics solutions
Adds analytics capabilities and recurring revenue with leading health plans and provider groups
Lead Bankers: Scott Messier,  Bob Maggiacomo
"Synergy was a true partner to us in achieving our strategic and financial objectives.  Their team has extensive knowledge of the healthcare sector and an acute understanding of the value-drivers of our company.  Synergy was able to best position Clear Vision for prospective buyers so they clearly understood the key attributes of our business.  Scott and Bob were very effective in navigating us and the management team through the sale process.  Pam and I are convinced that their expertise helped us achieve a very successful outcome."
Tom Peterson, Co-founder & CEO, Clear Vision Information Systems
Client Profile
CVIS offers data analytics Software as a Service (SaaS) to health plans, provider groups, and ACOs nationwide.  The company's core product, RevMaxPro, provides risk adjustment analytics that identify, track, and report chronic conditions in the Medicare Advantage (MA) market.  This platform also provides near real-time assessment of risk or revenue potential associated with care and reporting of chronic conditions.  RevMaxPro is NCQA certified and offers quality reporting for HEDIS and Stars for MA, Medicaid, commercial and exchange plans.  Its DxMax offering is a turnkey solution that captures missing diagnosis data from inpatient stays for Medicare Advantage, Medicaid and commercial plans.
Situation Overview / Synergy Approach
The co-founders of CVIS were interested in identifying a strategic counter-party that could best take advantage of the company's industry thought-leadership in risk adjustment to capitalize on significant market opportunities.  They were also seeking financial liquidity.
The Outcome
Combined with SCIO Health Analytics, the business now is better strategically-positioned with a wide array of complementary care management and payment integrity offerings; and management has access to more financial resources to invest in its growth.  Synergy achieved the owners' immediate monetization objectives, as well as the potential to capture meaningful long-term appreciation through equity participation in the combined entity.