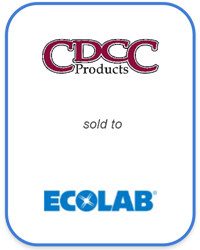 CASE STUDY:
CDCC Products
Performed strategic alternatives analysis for owners that evolved to a decision to sell the business
Successfully exited at terms superior to initial unsolicited offers due to an organized and competitive process
Lead Banker: Dan Sanford
"Dan did a great job and ran a diligent, well-orchestrated process with a broad group of qualified buyers. His thorough understanding of our business and insightful advice helped us achieve a successful close despite intervening complications along the way. His business judgement and deal experience earned our trust and respect. Dan has become a friend, and I would not hesitate to work with him again down the pike."
Jack Weaver, President & Founder,  CDCC
Client Profile
Founded in 1996 by 2 seasoned coffee industry veterans, CDCC was a highly profitable manufacturer of a proprietary line of powdered and liquid chemical cleaning products.
Its portfolio of patented products are used in equipment that prepares and dispenses coffee, tea and other specialty drinks.
CDCC's family of cleaning products serves distinct market segments, including: specialty coffee houses, coffee roasters, convenience stores, foodservice, quick serve restaurants, and vending/ocs.
Situation Overview 
The owners were facing a dilemma: whether to raise a round of growth capital or monetize their investment given unsolicited inquiries by interested strategic buyers.
The banking team conducted a deep-dive analysis of the business and industry segment; subsequently delivering a thorough presentation of prioritized strategic alternatives.
The owners decided to sell the company given persistent unsolicited indications of interest from 2 large strategic buyers.
A rigorous competitive auction process was undertaken, resulting in offers from multiple strategic and financial buyers.
The Outcome
The business was sold on favorable terms; including a significant cash price premium above initial buy-side offers.