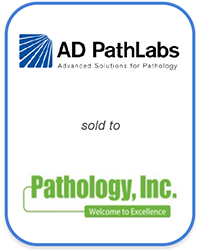 CASE STUDY:
AD PathLabs
Exclusive sale of a growth company in a financial turnaround
Synergy approached over 20 strategic and financial buyers
Process yielded mediocre terms in first attempt – largely due to buyer's discomfort in ADPL's business model and continuing losses
ADPL remained in a liquidity pinch as it had not yet achieved break-even – Synergy arranged for debt financing to allow for continued viability during the merger process
Synergy identified a second group of buyers and closed a transaction with physician-led Pathology, Inc. (a bidder who embraced the business model strategy as a similar model to their own)
Lead Bankers:  Bob Maggiacomo,  Jim Emslie
"Bob and Jim fought like bulldogs to get the deal done – doubling down their efforts when initial buyer reception was tepid. They also secured bridge financing required to fund the company to the finish line. We were extremely happy with the outcome and with Synergy's effort in helping us avoid an ongoing cost that could have lasted over a decade. The Synergy team continues to bring us creative M&A ideas for our other portfolio companies, particularly within the healthcare IT space."
Venture Investor / Board Member,  AD PathLabs
Managing Director, Pacific Venture Group
Client Profile
AD PathLabs was a growing Anatomical Pathology and Esoteric testing company based in Southern California, servicing hospitals, surgery centers and physicians primarily in the oncology space. The Company's business model focused on partnering with local community hospital-based pathologists to allow them to capture professional fees, while driving technical fee volumes.
Situation Overview
Prior to the transaction, the Company had been losing money for several years and was recapitalized by 3 venture firms and other individual investors, who brought in a turnaround CEO. Investors ultimately decided that the upward trends were strong enough to market the company – there was also different liquidity needs for some of the equity holders so a monetization was desirable.
The Outcome
Synergy successfully completed the sale to a larger strategic acquirer – an in-market competitor. The PE / VC funds and individual investors were able to exit at acceptable returns, and perhaps more importantly, investors were able to avoid / transfer the significant liability of maintaining patient specimen records for long durations (as mandated by regulations).